Purchase the Summer 2018 (1) – (12)  lessons!
Level: For people who finished Basic Grammar level (such as Genki 1 and 2)
We learn about daily conversation to formal conversation.
One time payment $100.00!
---
Each lesson comes with:
(1) Lesson Video
(2) Lesson Memo with English Translation edited by native English speaker.
(3) Audio for your shadowing practice to master Japanese pitch.
The contents are as follows.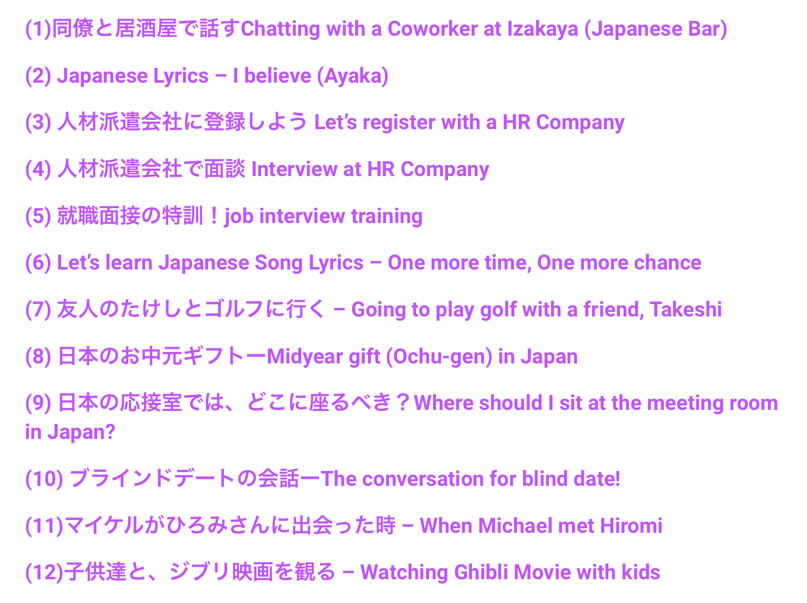 ---
"Is my Japanese knowledge good enough for Advanced Class?"
If you finished learning basic Japanese Grammar lessons, such as Genki 1 and 2, you are ready for this class! The lesson will be explained in English with English translation.
---
(3) 人材派遣会社に登録しよう Let's register with a HR Company.
****************************
マイケルさんには、日本人の奥さんと子供3人がいます。
今日の会話は、「マイケルさんが、どうやって仕事を見つけたか」です。
*****************************
日本に引っ越してきた三ヶ月前
マイケル:やっと日本への引っ越しも落ち着いたね。これから仕事はどうやって見つけたらいいんだろう?
日本の会社で働いたことないし、アメリカ人だし、仕事があるかな?
ひろみ(妻):とりあえず、人材派遣会社に登録しないといけないでしょう。
マイケル:そうか。どこの人材派遣会社がいいんだろう?
ひろみ:Doda(デューダ)という人材派遣会社は、あなたのようなエンジニアの仕事のリストがたくさんあるらしいよ。
日本では、エンジニアが足りなくて困っているらしいよ。だから、実力さえあれば、外国人でもいい給料で仕事が見つかるらしいよ。
マイケル:デューダ?ウエブアドレス知ってる?
マイケル:そうか。まずは、人材派遣会社に登録だね。
ひろみ:マイケルは頭がいいし、エンジニアだし、きっといい仕事があるよ。がんばって。
---