You are already our premium member? Click here!
Premium members ($30/month) have access to all:
      Live Mon/Tue/Thu 10:00~10:40pm (Japan Zone) 40 min each Currently JLPT N1
      (* 9:00~9:40pm during Summer time in Europe )
      Attend live lesson or watch recorded video:) 
     (N5 & N3 & N2 Done. Premium Members have access to the all pre-recorded videos)
      Pre-recorded
      Pre-recorded
      Pre-recorded
(1) Premium members have free Skype lessons for 30min a month! (Choose "Premium Member") (2) $30 per 30min Skype for non-members. (Choose "Non-Member") (3)If it's ok to upload the video on YouTube for public, the Skype session is free! (Choose "YouTube with Hanako".
---
(AUD/EUR/GBP/CAD/CZK/DKK/HKD/HUF/ILF/CHF/
MXN/NOK/NZD/PHP/PLN/RUB/SEK/SGD/THB/TWD)
<CANCELLATION POLICY>
You may end your Premium subscription any time at your convenience with no cancellation fee. After ending your subscription, links to lessons will become unavailable 30 days past your last payment. If you cannot cancel your subscription through PayPal or Credit Card, please e-mail hanako@japanesebyhanako.com
---
(1) Is my level Beginner (Genki 1) or Intermediate (Genki 2)?
(2) Is my level Intermediate (Genki 2) ? 
Premium members have access to all classes (JLPT, Beginner, Intermediate and Business Lessons)!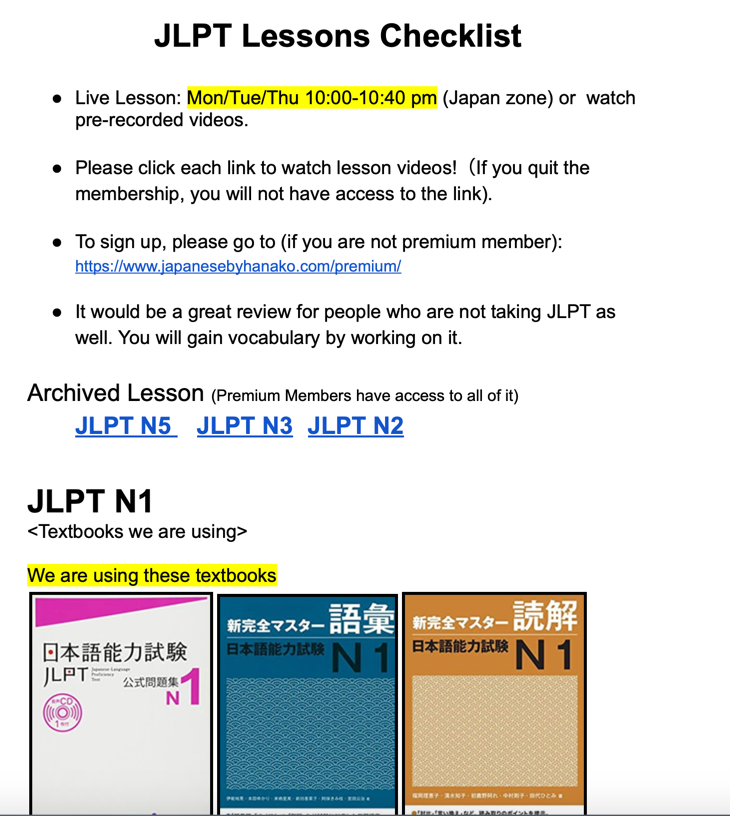 はじめに、ひらがなを一週間で覚えてみて。
First, please try to memorize hiragana within a week.
このクラスは、Genki1をベースにしているよ。
This Course is based on Genki 1.
覚えても、覚えられなくても、CH1のウィークリーレッスン「X is Y」を見て。
Whether you memorized hiragana or not, please start with the CH1 weekly lesson, "X is Y".
その後HWだらだらクラブレッスン「CH1-1」を見て。
After that, please watch the corresponding HW dara-dara club lesson, "CH1-1" from the lesson list.
そして、このリストのように進んでいって。
Then, keep going through the list like that.
「Hanako's Beginner Japanese in 37 Days」を買うと、本に線を引いたり、ポストイットをつけたりできるので、便利かも!
If you purchase "Hanako's Beginner Japanese in 37 Days", I think you will find it useful since you will be able to do things such as highlight and place post-it notes anywhere you like!
(1) Beginner Member Check List
(2) "Beginner Japanese in 37 Days"
(3) Print Kids Hiragana Practice Sheet Website
(4) Hiragana Test:
(5) "Did I Nail Genki 1?" Test:
(6) Free e-Book "How to Become a Confident Japanese Speaker"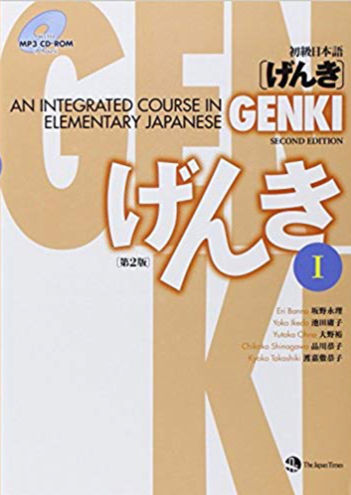 * Live or recorded 40 lessons.
This is for "absolute beginners".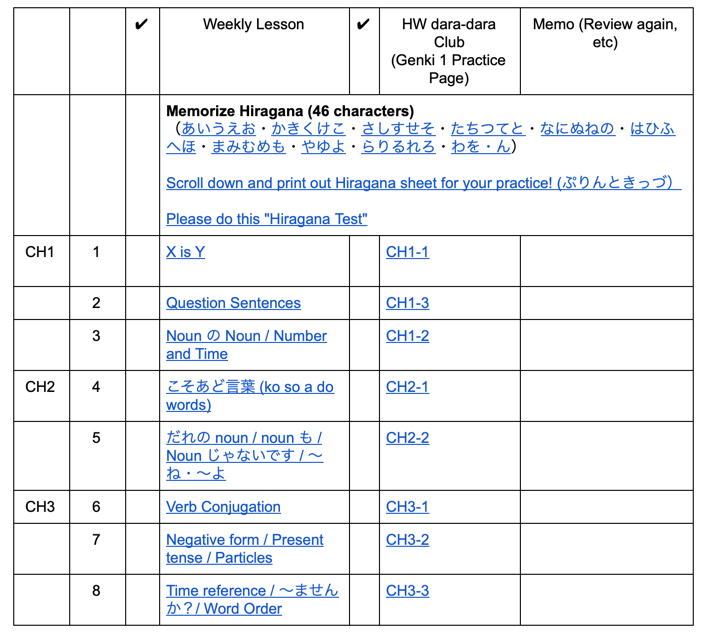 Beginner Lessonと同じ。
ウィークリーレッスン「CH13・P30 Potential Verbs」を見て、その後HWだらだらクラブCH13-1/CH13-2/CH13-3/CH13-4を見て。
Please watch the weekly lesson "CH13. P30 Potential Verbs", and watch HW dara-dara Club CH13-1/CH 13-2/CH 13-3/CH 13-4.
そして、そのように進んでいって。
Then, please keep going like that.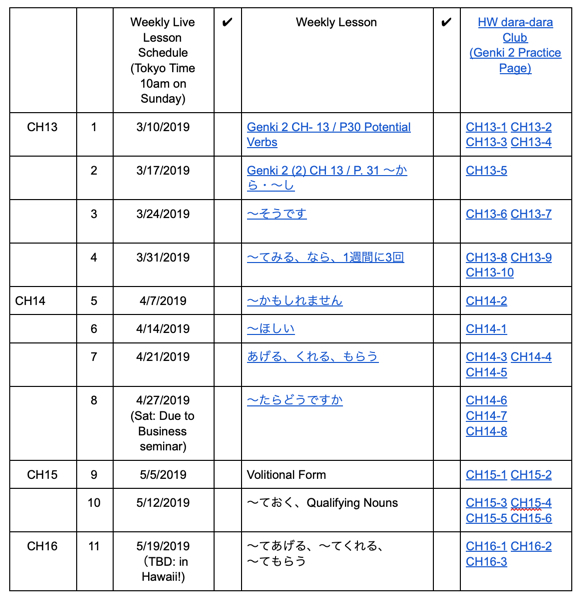 このクラスは、ライブではありません。
This Class is not live lesson.
JLPT クラスはライブです。
JLPT Class is live lesson.
Genki 1とGenki 2レッスンは、基本のレッスンなので、消しません。
I won't delete Genki 1 & Genki 2 lessons since it's fundamental.
プレミアムメンバーの方は、下のリンクをクリックしてください。
If you are our premium member, please click the link below.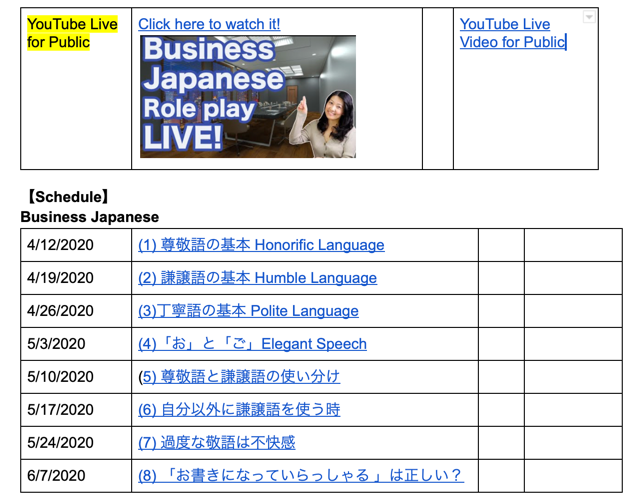 ---
(AUD/EUR/GBP/CAD/CZK/DKK/HKD/HUF/ILF/CHF/
MXN/NOK/NZD/PHP/PLN/RUB/SEK/SGD/THB/TWD)