先月(せんげつ)、妹家族(いもうとかぞく)が飼(か)っていた18歳(さい)の黒猫(くろねこ)のジジちゃんが死(し)にました。
Last month, my sister's 18-year-old cat Gigi passed away last month.
その時(とき)のペットの葬儀屋(そうぎや)のペットの骨(ほね)の焼(や)き方(かた)を見(み)て、このおくりびとを(おも)い出(だ)しました。
When I saw how the pet funeral service cremated Gigi, I remembered the movie, "Okuribito".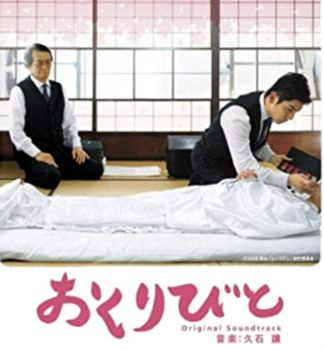 ペットの葬儀屋(そうぎや)は、そのペットの骨(ほね)だと言(い)って違(ちが)う骨(ほね)を飼(か)い主(ぬし)に持(も)ってきたりする悪徳(あくとく)なところもあるようです。
There are some bad pet funeral services that don't care about the pet and bring back bones that is not the lost pet's bone.
でも、ここは違(ちが)いました。ペットの死体(したい)を丁寧(ていねい)に扱(あつか)います。
However, this one was different. They treat deceased pets carefully.
家(いえ)の前(まえ)にワゴン車(しゃ)を持(も)ってくるのですが、その中(なか)でペットを3時間(じかん)くらいで焼(や)けるんです。
They bring their wagon car in front of the pet owner's house, and cremated the pet in the car in about 3 hours.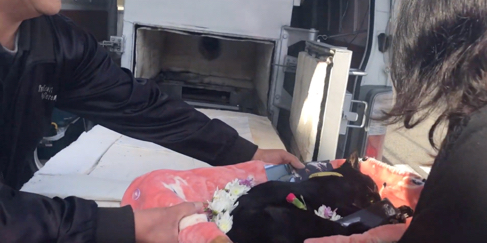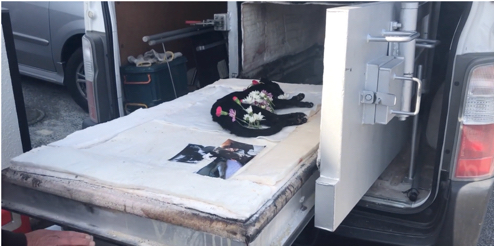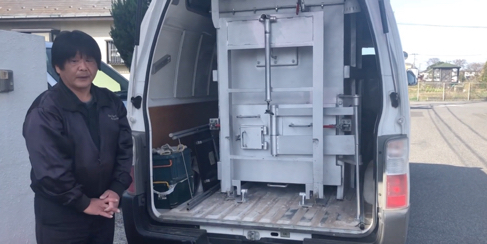 つい、「この車(くるま)は、フェラーリより高(たか)くないですか?」と聞(き)いてしまいましたが、古(ふる)いトヨタのワゴンですが特注(とくちゅう)なので1000万円(まんえん)だと言っていました。
I asked him like, "Isn't this car more expensive than a Ferrari?" without thinking, and he said it cost more than 10,000,000 yen (about $100,000) since it's a special custom-made car able to cremate although it's an old Toyota wagon.
骨(ほね)は確実(かくじつ)に自分(じぶん)のペットのものなので、飼い主(かいぬし)は安心(あんしん)です。
Owners feel relieved since the bone is definitely their pet's.
しかも焼(や)いている間(あいだ)は家(いえ)の中(なか)で待(ま)つことができます。
On top of that, owners can wait inside of their house while the pet is cremated.
焼(や)きあがると、スタッフが家(いえ)にいる私(わたし)たちを呼(よ)んでくれて、骨(ほね)を丁寧(ていねい)に拾(ひろ)って、小(ちい)さくて白(しろ)い箱(ばこ)に入(い)れてくれます。
When it's done, the staff call us inside, and pick the bones carefully to put in a white box.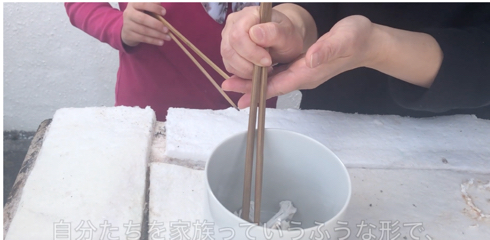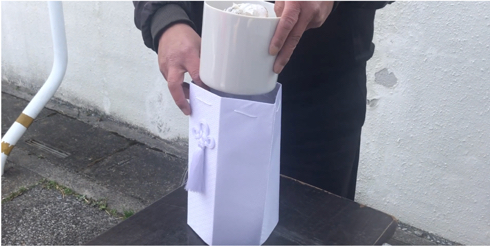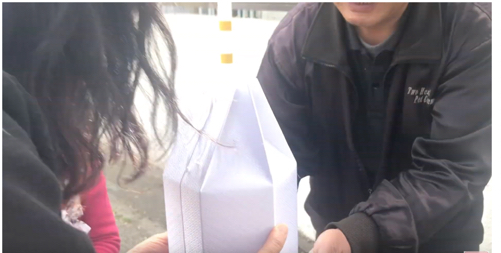 また、おじさんは泣(な)いている妹(いもうと)をこう言(い)って慰(なぐさ)めてくれました。
And then, the middle aged man comforted my sister by saying this.
「飼(か)い主(ぬし)を選(えら)べないペットがたまたまこちらの家族(かぞく)に気(き)に入(い)ってもらえて、亡(な)くなったら泣(な)いてもらえる。
Though all pets can't choose their owners, your family liked Gigi and when she died, you guys cried for her.
ゴミのように殺(ころ)されている犬猫(いぬねこ)がいっぱいいる中(なか)、家族(かぞく)の一員(いちいん)として泣(な)いてもらえるこの子(こ)は本当(ほんとう)に幸(しあわ)せだったと思(おも)いますよ。」
There are many dogs and cats killed like garbage, though, you guys cried since you thought of Gigi as part of your family, so I am sure she was very happy with you. "
日本(にほん)のおくりびと(送(おく)りネコ)精神(せいしん)は素敵(すてき)だと思(おも)いました。
I thought Japan's "Okuribito" thinking is wonderful.
映画( えいが)「おくりびと」は、ちょっとくらい感(かん)じがしますが、面白(おもしろ)いので見(み)てください
It sounds dark, though, the movie, "Okuribito" is interesting. Please watch it!